Meet The Eggheads
Funny Gifts
Cartoonist Services
Welcome to Cartoonists and Illustrators United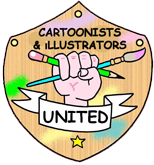 Cartoonists and Illustrators United is an International group founded in 2010 by a rebel cartoonist to support and promote cartoonists, illustrators and graphic artists around the globe. The ethos of the group is to facilitate the free promotion of inidvidual artists services and as such it does not charge membership fees. The group also encourages a friendly, open and inclusive forum atmosphere where members can freely express themselves without the 'clique' environment that some other forums and groups cultivate. Artists from all disciplines are welcome even though this is primarily a cartoonist and illustrator forum.

Everyone is welcome.

The group is expanding and has some great new features such as:
Si
m
on
Lake

Forum Founding Member and Moderator
A special thank you to
Bryant Arnold
for creating these fabulous cartoon caricatures.
Bryant also designed our forum 'badge' along with the help of resident Moderator Simon.